Baseball Fence Poly Cap vs Fence Crown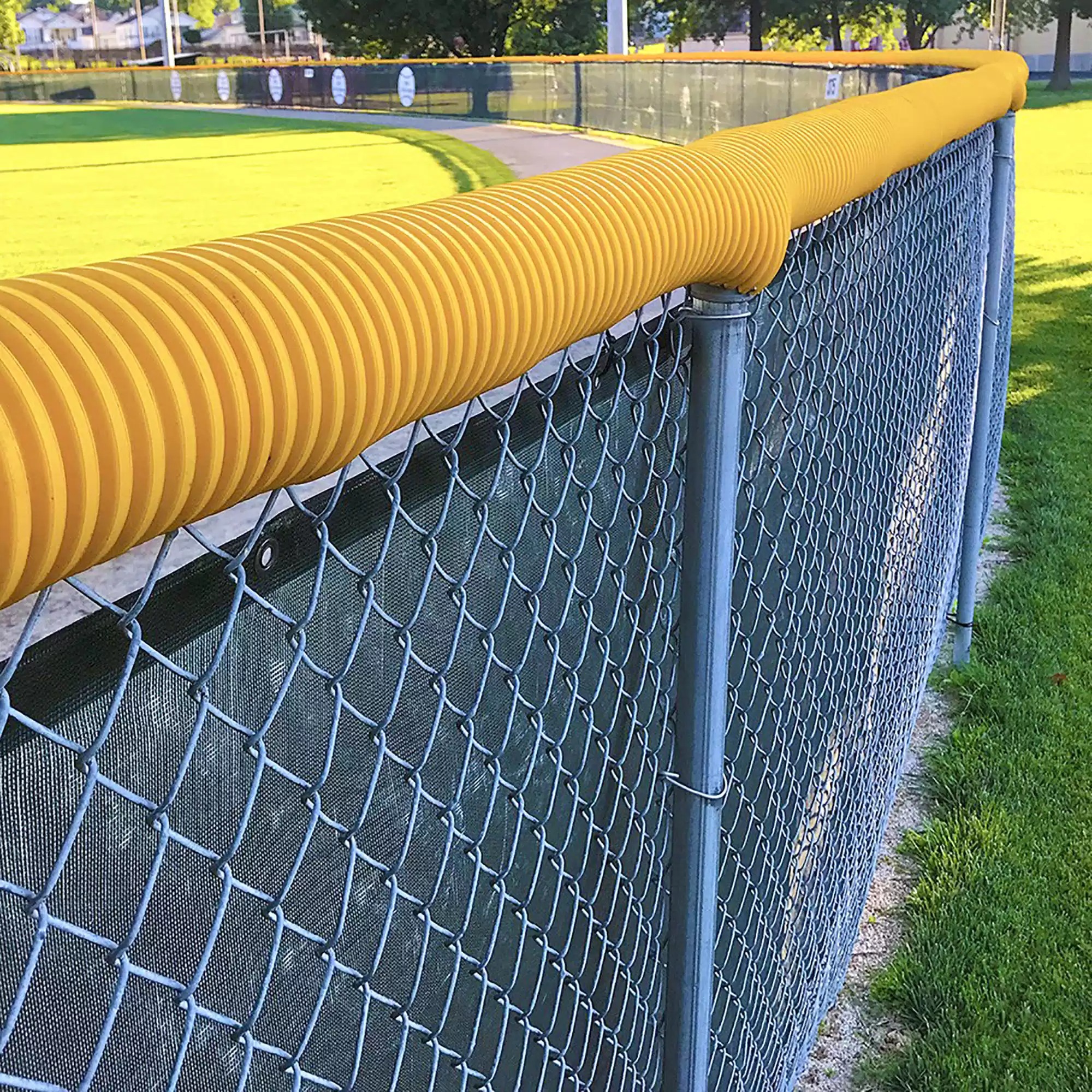 Make safety a top priority by installing fence covers to the top of your chain link sporting fence. Whether you are looking to install at a baseball field, football stadium, park, or even your own backyard, we have an option that is designed to fit your specifications.
Fence toppers is used to prevent players, fans, and officials from being injured by the sharp, pointed top of chain link fence. The covers not only offer a protective barrier from being harmed by the fence's top but also offers a visual marker to prevent people from ever running into the fence.
In the industry of fence toppers, there are two popular styles that people debate over. One being the Poly-Cap and the other being the Fence Crown, also known as Fence Guard. Both options offer great, full coverage protection to your fence. Though depending on your specific needs, one might work better than the other. Below is a good breakdown to show you the difference between the fence toppers to make the best decision on what will work for you.
Fashioned out of the same durable and heavy-duty material as drainpipe, the Poly Cap fence topper is a reliable option to cover your fence top. A popular option for many professional and minor league baseball fields, this style of fence topper is known best for its sturdiness. While other competitors have chosen to thin their Poly Cap toppers to cut on price, we have stayed true to providing thick toppers to ensure full protection.
During the manufacturing process, the polymer is treated so that it is both weather and UV resistant, meaning it will not fade or crack even in the harshest of weather conditions. This allows you to have peace of mind that your fence topper will keep looking vibrant and not need to be replaced after every baseball season. We offer our Poly Cap topper pre-cut to allow for immediate, easy installation. Please note that an installation tool will be needed to properly place the topper on your fence.
For those looking for a sleek and low-profile way of covering your fence without sacrificing the full coverage protection, there is Fence Crown. Unlike Poly Cap, which is known for being bulky in appearance, the Fence Crown's design provides a form-fitting look to the top of your chain link fence that is far more aesthetically pleasing.
Made from high-quality polyethylene that has been UV and weather treated to prevent fading and cracking, this fence topper is designed to look great and provide ideal protection for years to come. Unlike Poly Cap, which needs an installation tool to install, the Fence Guard does not require any tools and can even be installed with just one person. With pre-drilled holes every 24", you will easily be able to secure the topper to your fence in no time.
Our Fence Crown is offered in two different options, Standard and Premium. The Standard fence option is .07" thick and is a great lightweight choice. This option is carried in dark green, yellow, blue, orange, white, black, and red to give you the option to match your fence topper to your field colors. While our Premium fence option is .10" and is a sturdier choice for fields that might receive a little more wear and tear. The Premium fence topper option is offered in yellow, blue, and red.
---
Keep the fun going all season long by taking the initiative and adding one of these protective fence toppers
Contact Us